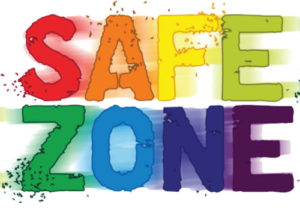 I listened to a story this weekend of a Baptist pastor in Pennsylvania at the beginning of the last century who preached what she called "extravagant grace". Extravagant grace to her was the concept that all were welcome into the space of worship. There were no "outsiders". Race, economic status, religious ideology, sexual orientation were no barriers to acceptance. Unfortunately the stand this person took eventually led her to emigrate from the US to Canada, but that's not why this story spoke to me. Rather, it got me thinking about how we as leaders foster acceptance in our organizations. Do we provide inclusive leadership? How do we create a safe zone? What does that look like?
Many of us, I hope, take some pride in being inclusive in our thinking. We have no issues with a person's ethnic, religious or cultural background. Increasingly in recent years we see that acceptance of differences in sexual/gender orientation is gaining ground, especially in Canada, where marriage equality has been the law of the land for over ten years, and where our Prime Minister and other senior civic leaders actively and openly take part in Pride events and promote LGBTQ equality.
I would like to put forward that if we really believe that inclusivity and acceptance is the enlightened way, then we as leaders must provide the opportunity and space for everyone to participate. That we take an active role in ensuring our organizations are open to all. That our recruiting and hiring practices do not discriminate and that we allow our customers and clients to know of our position as well. This may seem like a radical thought to some reading this post, but to effectively create change we need leaders to be courageous. I go back to Kouzes and Posner who talk about how exemplary leaders "Challenge the Process", which is to "search for opportunities to change the status quo." That they "experiment and take risks".  More importantly, though, is their call to "Model the Way", which calls leaders to "establish principles concerning the way people should be treated…"
As for LGBTQ rights, I believe they are a leadership issue, and not just at the government level but at the business and social organizational level as well. The matter of which washrooms transgendered individuals should use — such a tempest in a teacup — could quickly become a non-issue if businesses started to openly promote non-discrimination on their premises (as I have seen happening in some places already). Providing leadership by demonstrating tolerance and openness to the LQBTQ community is no different than it is for ethnic diversity and racial differences. Looking back to the mid-20th century and the violent clashes of the civil rights movement, we can and must take a lesson from those experiences, especially since many of the arguments against them then are the same ones being used now against LGBTQ rights. How could it be that in 1946 a black women was arrested for sitting in the lower section of a movie theatre in New Glasgow, Nova Scotia? We look back at those times today and shake our heads. How long will it be until we can collectively do that for our LQBTQ friends?
John Whitehead, coaches' individuals and organizations in becoming more effective by helping them improve their interpersonal communications, emotional intelligence and resiliency.
*******Are you wondering if having a Leadership/Personal Development Coach is right for you? Contact John for a complimentary, exploratory coaching session at [email protected]********
If you would like to get notifications for when I post, please go to my blog site and register. I promise I will not spam or use your email address for anything else. You can visit and register for my blog at https://johnkwhitehead.ca/blog-2/
Please follow and like us: