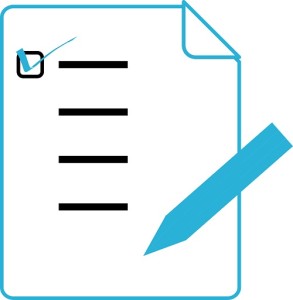 I was coaching an individual recently who was trying to figure out how to use her time more wisely, to stop procrastinating and get a clear vision of what she needed to accomplish on a given day. She had tried creating lists, setting each day's goals, etc., but nothing had clicked yet. Through the coaching process she recognized that perhaps making the list first thing in the morning wasn't working for her, so one of her action plans was to generate her to-do list in the evening, before she went to bed. Doing that meant her list of things to accomplish for the day was already set up for her.
"With self-discipline most anything is possible." ~ Theodore Roosevelt
I'm not sure about the psychology of this, but from my own personal experience, waking up in the morning with a plan already laid out works best for me. At the end of the day there's no pressure to take care of those little jobs that just have to get done first thing. I can look at the next day's tasks and priorities from the distance of a good night's sleep.  When I wait until morning to make my list, so often other little things pop up that distract me from the day's true priorities. Often I wouldn't get around to making a list at all. Maybe it's the pressure of another item appearing in the morning that felt it had a priority (although often it didn't), or a distraction that could easily sway me away from what I really needed to focus on. Whatever it was, setting up agenda the day before works for me.
"Mastering others is strength. Mastering yourself is true power." ~ Lao Tzu

Of course just making a list doesn't mean things will automatically happen — you have to actually do the things on the list 🙂 . It takes discipline not only to create the list, but then also to follow through on the actions. Self-discipline is a habit as much as anything else and research has shown that to move an activity to the next step so that it becomes a habit, requires 18 to 21 repetitions of that activity. Being self-disciplined is a learned response, so in my example above, making a to-do list and then following through on it on a daily basis becomes a habit, and while creating this habit we are also bolstering our ability to be self-disciplined. The Collins English dictionary defines "self-discipline" as, "the act of disciplining or power to discipline one's own feelings, desires, etc, esp with the intention of improving oneself".  So one makes a habit of discipline just as we do any other habit, but it takes self-discipline to generate that habit. It's just one of life's paradoxes. But to my warped way of thinking if we are developing both at the same time that should make us even better at both right? I'm up for that, how about you?
Footnote:
A couple of things I have learned when making my own to-do lists:
Don't worry about the order – just write them down as they come to you
Keep the list static – in other words add things as they come to you throughout the day
Once you have written down your things to do, prioritize them
Cross out the item once you have completed it
If you accomplish a task that isn't on your list, add it to your list then cross it out as done
At the end of the day move those items you have not completed to the top of your new list for the next day
Finally, at the end of the day take a look at your list and see all that you have accomplished – smile!
"Whether you call it Buddhism or another religion, self-discipline, that's important. Self-discipline with awareness of consequences." ~ Dalai Lama
John K Whitehead & Associates coaches' individuals and organizations in becoming more effective by helping them improve their interpersonal communications, emotional intelligence and resiliency.
You can read my blog at https://johnkwhitehead.ca
If you have enjoyed reading these posts, please Follow Me
Please follow and like us: